Aug 28, 2023 | AIJAC staff

Update 08/23 #03
This Update is devoted to the growing crisis in the Palestinian Authority (PA) which controls the West Bank – and is not only highly unpopular under ageing PA President Mahmoud Abbas, but has lost security control of areas of the West Bank, is facing a severe financial crisis, and has no real plan for succession when the 87-year-old Abbas passes from the scene.
We lead with a long report from the Christian Science Monitor on the leadership and succession crisis in the PA. The piece is notable for its on the ground reporting and conversations with ordinary Palestinians who feel disconnected from the PA, and are bracing for chaos when Abbas departs the scene. The piece also includes some input from both Palestinian and Israeli experts on Palestinian politics – none of whom offer much optimism for the future. To read this important piece about the PA's looming problems, which are likely to affect Israel as well as the Palestinians, CLICK HERE.
Next up is Washington-based analyst Hussain Abdul-Hussain, who looks in some more detail at the succession struggle already looming in the PA. He discusses the background and prospects of four would-be Abbas successors from within his own Fatah movement – Hussein Al-Sheikh, Mohammed Dahlan, Tawfik al Tirawi, and Jibril Rajoub. Abdul-Hussain also notes growing fears a civil war could break out if Abbas dies or becomes incapacitated – and what this might mean for Israel. For his valuable analysis, CLICK HERE.
Finally, despite the PA's escalating problems, incitement to violence against Israel seems to remain one thing it continues to prioritise, as the third article in this Update makes clear. Nan Jacques Zilberdik of Palestinian Media Watch offers detailed and documented examples of such incitement from this year's summer camps for Palestinian kids and teens in the West Bank. As she documents, these camps are going all out to teach Palestinian kids that terrorists and "martyrs" should be their role models – heroes they should strive to emulate. For numerous examples of this ugly indoctrination of kids by the supposedly "moderate" PA, CLICK HERE. More details on these summer camps and the incitement they are providing to Palestinian kids come from two Middle East Media Research Institute (MEMRI) reports – here and here.
Readers may also be interested in…
---
Why Palestinian self-government is unraveling under President Abbas
By Taylor Luck –  Special correspondent
Fatima AbdulKarim – Special contributor
Neri Zilber  – Special contributor
Christian Science Monitor, August 17, 2023
RAMALLAH, WEST BANK; AND TEL AVIV, ISRAEL – Mohammed strolls down the corridor, stopping to gaze at glassed-in panels marking milestones in the life of Yasser Arafat and modern Palestinian history: the first intifada, the Oslo Accords, a Nobel Peace Prize, the second intifada.
The Chilean Palestinian, who asks that his full name not be used, lingers at the final panel on the 2004 death and funeral of Mr. Arafat, the longtime chairman of the Palestine Liberation Organization (PLO) and first president of the Palestinian Authority (PA).
Mohammed says every time he visits his family in the West Bank village of Turmus Ayya, he comes to the Yasser Arafat Museum and Mausoleum, a pilgrimage to what he considers symbols of Palestinian identity and yearned-for statehood, to "feel connected to my nation and my roots."
Palestinians' trust in their leader and government is failing. Mahmoud Abbas, the aging and autocratic president, has been holding together the Palestinian Authority. But with no succession plan in place, predictions of chaos are proliferating.
"All of this is our story," he says, motioning to the display cases. On this weekday afternoon he seems puzzled to be the only visitor.
A few yards away, the Mukataa presidential compound, which buzzed with life under President Arafat, is nearly just as empty.

The Yasser Arafat Museum in Ramallah – reportedly increasingly empty (Image: Wikimedia commons)
It's no coincidence. Mr. Arafat's successor, Mahmoud Abbas, whose elected mandate ended 14 years ago, has shut off the Mukataa and PA, the institutional embodiments of Palestinian autonomy, to everyone but himself and his inner circle
And while the succession process triggered by the passing of Mr. Arafat was an orderly affair that followed a nascent constitution and political consensus, plans for succeeding the 87-year-old Mr. Abbas are far from clear.
Over the past 12 years, the president, also known as Abu Mazen, has ousted and exiled potential rivals, detained opposition figures, and quashed dissent, both within his Fatah movement that dominates the PA and across the West Bank.
With the Palestinian parliament dissolved, judiciary sidelined, and his party hollowed out, Mr. Abbas and a handful of allies now rule the West Bank alone.
The result, observers and Palestinians say, is a self-inflicted leadership crisis: The PA commands little popular support, its control over territory is diminishing rapidly, and the one man holding together the PA – a legacy of the 1993 Oslo Accords with Israel – may soon be responsible for unraveling it.
For Palestinians, uncertainty over the succession process comes amid a whirl of public apathy, rising settler violence under a far-right Israeli government, spiraling crime, and the emergence of militias targeting Israelis and clashing with PA security services.
With the United States and the West preoccupied with Ukraine, Israel consumed with internal divisions, and the Palestinian cause a lower priority for many Arab states, the brewing crisis is one that many countries and Palestinians themselves see coming, but are unable – or unwilling – to avert.
"All my family tell me that this isn't the Palestine that I knew, that they knew," Mohammed says of the uncertainty swirling in Ramallah. "Everyone is anxious and has no idea where we are going, who will lead us."
Who will take over from Mr. Abbas has become a guessing game among the few Palestinians still invested in a leadership that many say "does not represent us."
Marwan Barghouti, a Fatah rival to Mr. Abbas jailed in Israel, consistently polls as Palestinians' preferred successor – double that of Hamas' Ismael Haniya. In a June poll by the Palestinian Center for Policy and Survey Research, Mr. Barghouti beats Mr. Haniya in a head-to-head matchup 57% to 38%.
Leading contenders among Mr. Abbas' inner circle and the Fatah old guard include PLO Secretary-General Hussein al-Sheikh, the PA's key liaison with Israel; Majed Farraj, head of Palestinian intelligence; Mohammed Shtayyeh, the technocrat prime minister; Fatah veteran Mahmoud al-Aloul; and Fatah Secretary-General Jibril Rajoub.
One scenario discussed in Ramallah, Jordan, and Egypt is a triumvirate of three senior PA officials, each managing a separate portfolio: administrative affairs, security, and diplomacy. Israeli officials consider the rule-by-committee scenario likely.
Members of Mr. Abbas' inner circle say continuity in leadership is "crucial" for Palestinians to keep the PA alive, maintain critical health and education services, cooperate with the international community, and safeguard against encroaching settlers and annexation attempts by Israel.
Those goals, they argue, supersede the need for elections.
"Continuity and the process will be respected," says Social Development Minister Ahmad Majdalani, a PLO Executive Committee member and Abbas ally. He dismisses succession worries: "Right now, policy is more important."
Yet few Palestinians believe the PA can survive a transfer of power without elections or transparency.
"Post-Abu Mazen, there will be chaos. There will be a collapse of Fatah and the PA. But instead of offering solutions to prevent the chaos, we are forced to be spectators," says Jassir Ghafri, one of hundreds of young Palestinians who have been driven from Fatah in recent years.
"We have a crisis in leadership and a crisis of ideas. There are no visions on where to go from here or how to improve our lives," he says. Thanks to Mr. Abbas' crackdowns, "we have no national project, no vision, no direction. Only arms."
The disillusioned 27-year-old runs an upscale Ramallah cafe and now avoids politics.
"You can plan two months ahead, but planning for a year is impossible," says Abdullah Rafidi, a 23-year-old baker in Al Bireh, adjacent to Ramallah, who cites rising crime. "I expect a civil war when the president dies."
Gaith al-Omari, an analyst and former PA official who worked with both Mr. Arafat and Mr. Abbas as a negotiating team adviser, sees the PA as weakened.
"Whoever comes after Abbas needs political support. In times of crisis, you need your public to rally around you, but he has pushed them away," he says.
"Today Palestinians are checking out; they feel they have no voice and that a small clique controls everything," he says. "There is a widespread sense of, 'This is not ours; why should we bother?'"
Stateless, institutionless
Indeed, Mr. Abbas' consolidation of power has come at the expense of Palestinian institutions, hailed as important safeguards that eased the leadership transition in 2005.

The Palestinian Legislative Council building in Ramallah has been unused since 2007 – and is becoming increasingly rundown and dilapidated (Photo: Wikimedia Commons)
One, the Palestinian Legislative Council, or parliament, has been shuttered since 2007, after fighting erupted between Fatah and its main rival, Hamas, which then held a majority.
Today, pigeons have taken roost in the council's domed entrance. Exposed wires poke out from the ceiling, and bits of broken drywall and concrete litter the floor as if a bomb had gone off 16 years ago.
In an adjacent building, Ibrahim Khreisheh, secretary-general of the council, watches over the shuttered parliament from his smoke-filled, third-floor office.
Like many, he believes democracy is the only path out of Palestinians' current crisis.
"The four of us in this room are Fatah," he says, pointing to himself and three colleagues. "Not even two of us can agree on the same [successor]. That is why you need general elections."
Yet they do agree that a prolonged interim period without elections would be "chaos."
"The Palestinian Authority would lose all legitimacy," says Mr. Khreisheh. "These institutions will be no more. We will be in a post-Oslo era and a post-Authority era. We are afraid that this will only lead to a vacuum and violence."
Political opportunities?
Watching and waiting is the Islamist militant Hamas, the target of protests in Gaza even as it enjoys a resurgence of support among West Bank residents who have never experienced its rule.
Reconciling Fatah and Hamas is a priority for many Palestinians, who blame the schism in part for their leadership woes. The latest efforts at reconciliation – by Turkey and Egypt in late July – made no headway.
Hamas is urging officials to follow the Palestinian Constitution's rules for succession, in which the speaker of parliament serves as interim president for 60 days during which presidential elections "shall take place." The last speaker was Hamas member Aziz Dweik.
"We are worried about the day after," says Ayman Daraghmeh, a former Hamas member of parliament in Ramallah. "Clashes within Fatah may happen."
A unilateral declaration of a Fatah president will prompt Hamas to name its own, he warns, leading to competing figures assuming the mantle of leader.
"I am afraid we are heading in this direction, because Abu Mazen refuses to even discuss succession."
Mustafa Barghouti, a physician and MP – and the last person to challenge Mr. Abbas for the presidency in the 2005 election – says the crisis offers a rare opportunity for Palestinians to reset their priorities and reorient their national movement.
"The question that should be asked is not who will be there, but what will be there" after Mr. Abbas departs, Dr. Barghouti says.
"The whole Authority is based on the peace process and was established to implement the peace process," he says. "This was the product of a project, but that project is not there anymore."
Dr. Barghouti, who leads the Palestine National Initiative, a centrist political party, says political factions can ask the Palestinian people to choose the way forward.
"Hamas thinks they have the best line. Islamic Jihad, Fatah, us, we all think we have the best line. The only way is to go back to the people and say to them, 'Please elect your leadership.'"
He calls for elections in the West Bank, Gaza, and Jerusalem for president, parliament, and the PLO.
Such elections, he says, could enable Palestinians to "shrink the security apparatus," boost spending on health care and education, and allow Palestinians to update their strategy on statehood, which has been unchanged since Oslo.
"We should have elections now," not wait for Mr. Abbas to die, he warns.
Infighting, violence
As uncertainty clouds the PA's future, it is rapidly losing influence in the present. According to polls, 80% of Palestinians want Mr. Abbas to resign, and 50% say the PA's dissolution is in their interest.
In protests against the PA, demonstrators now ignore Mr. Abbas and chant against potential successors instead – such as the PLO's Mr. Sheikh.
PA security services attempting to regain control of the Jenin refugee camp, a militia stronghold, were met this month with armed resistance.
Even in Ramallah – a gentrified suburbia of shopping malls and chic cafes and the PA seat of power since Oslo – its grip is rapidly loosening.
The PA has been unable to pay full salaries to its 130,000 state employees for 20 months. With just 70% to 80% of their salaries, many disgruntled employees are sinking into debt or are abandoning their posts to work in Israel.
Economic recovery from the pandemic has been sluggish, with strikes affecting even schools and hospitals.
And now crime and vendetta killings are on the rise in the West Bank, which is awash with guns, many smuggled from Israel and Jordan. Criminal gangs are reaching Ramallah as Mr. Abbas trains his security services on political opponents.
Expressing a common concern, Ghaidah, a Ramallah fitness instructor, says, "We are afraid of infighting that will not be among Palestinian people but officials who will fight over who will get to rule over us."
An anxious region
A flurry of summits among Arab leaders and Mr. Abbas – the most recent on Monday with Egyptian President Abdel Fattah al-Sisi and Jordan's King Abdullah – is seen to indicate rising anxiety over Palestinian succession in the region.
Particularly in Israel, where Palestinian succession has been a topic of concern ever since Mr. Abbas was elected president at the spry age of 70.
Succession is "a heavy issue with strategic implications," explains retired Col. Michael Milshtein, a former Israeli military adviser on Palestinian affairs and a lecturer at Tel Aviv University. "Israel prepares for it all the time."
Israeli Palestinian Affairs Expert Col. (ret.) Michael Milshtein: Israel prefers continuity in the PA and figures who will carry on Mr. Abbas' policies, and above all wants to avoid chaos, which is likely to spill over into Israeli territory. (Photo: Twitter/X)
Israel prefers continuity in the PA and figures who will carry on Mr. Abbas' policies: opposing armed resistance, upholding security coordination with Israel, and maintaining the PA as a governing entity. Israel views Mr. Sheikh and Mr. Farraj as most likely to continue this posture.
While the Israeli security establishment views a Fatah-Hamas unity government as less ideal, the worst-case scenario would be the post-Abbas fragmentation or outright collapse of the PA, prompting clashes between militias loyal to political rivals.
According to Dr. Milshtein, a hard-learned Israeli lesson that "we don't get involved in crowning kings in the Arab world" is offset by concerns about chaos spilling over into Israeli territory, which could spur military actions.
Even the current government, the most far-right in Israel's history, has expressed concern over the PA and the financial and political crises gripping the West Bank. The Cabinet decided in July to "work to avoid the collapse of the Palestinian Authority."
Yet so far, no proposal has materialized.
Israeli extremists
Some Israeli officials and analysts fear that extremists in key government posts are undermining efforts to bolster the PA and seeking to use the leadership crisis to accelerate its collapse.
One particular figure is Bezalel Smotrich, the finance minister also entrusted with administering the West Bank, who has openly called for Israel to annex the territory and favors the PA's demise.
"The PA's existence is not worth the diplomatic damage it causes us," he said in 2019. "It is better for Israel to work towards its collapse."
Warns Dr. Milshtein: "A right-wing government may see an opportunity" to use chaos over succession to undermine the PA.
The outside actor with potentially the most leverage in the West Bank is Jordan. King Abdullah regularly hosts Mr. Abbas, and Jordanian intelligence maintains ties with West Bank communities.
Yet Amman's desire to prevent instability in the West Bank is tempered by its unwillingness to allow the Israeli government to "absolve itself from its responsibility in aiding the Authority's collapse," an official source says.
Distrust toward Prime Minister Benjamin Netanyahu is high, and Jordan fears its direct involvement in the Palestinian leadership transition will aid "far-right Israeli government attempts to make Jordan the de facto homeland and sovereign state for Palestinians," a source close to the palace says.
"It is almost like we see this train wreck coming and we wring our hands," says Mr. Omari, the analyst, "but no one is doing the necessary political and diplomatic heavy lifting to deal with it."
---
Will Abbas be the final Palestinian president?
Hussein Al Sheikh may be the PA's number two now, but it's far from certain he can withstand the inevitable challenges that will confront his succession.
Hussain Abdul-Hussain
The Arab Weekly, Thursday 17/08/2023

87-year-old PA President Mahmoud Abbas greets US President Joe Biden in Ramallah in July 2022. (Photo: US Government via Flickr)
Last month, Foreign Policy, the venerable online news magazine, profiled the Palestinian Authority's second-in-command, 62-year-old Hussein Al Sheikh. As the internal battle to replace Mahmoud Abbas, the 87-year-old PA president, heats up, the magazine suggested that Al Sheikh, despite his many transgressions, "stands a chance of becoming the next leader of the PA."
But instead of assessing Al Sheikh's popularity among Palestinians, especially in the security forces, Foreign Policy took Sheikh's measurements by Western standards, highlighting allegations of corruption and harassment of female coworkers.
While rooting out corruption and harassment should be top priorities for any government, the Palestinian reality threatens the existence of the government itself. Without a government, discussing policies becomes irrelevant, a distraction from the more pressing issue of a possible Palestinian civil war in the post-Abbas era.
Al Sheikh may be the PA's number two now, but it's far from certain he can withstand the inevitable challenges that will confront his succession.
Al Sheikh was a young activist when he spent time in an Israeli jail, where he became fluent in Hebrew. This allowed him to play instrumental roles in coordinating between the PA and Israeli authorities on security matters. Al Sheikh thus climbed the ranks inside Fatah and the Palestine Liberation Organisation (PLO). In the spring of 2022, Abbas appointed Al Sheikh as the PLO's secretary general, effectively anointing him successor.
But Al Sheikh's meteoric rise didn't mean he was popular with the public. On his way to the top, Al Sheikh lost his brother in a road rage shootout in Ramallah, in 2020. Two years later, the two killers were sentenced to 15 years and turned out to be security personnel, raising speculation that the incident was a message from Al Sheikh's rivals.
If Al Sheikh wants to become PA chairman, he'll likely have to fend off challenges from stronger and more popular contenders. His competitors, like Al Sheikh himself, are non-Islamists who have cooperated well with Western and Israeli authorities. While these men should work together to reform the PA and crack down on violent militants and Islamists, it's doubtful that any of them would settle for anything less than becoming the undisputed PA chief.
Among the contenders for the post is Mohammed Dahlan, 61, a former senior Fatah figure and PA security chief whom Abbas expelled from Fatah in 2011. Although recent surveys show Dahlan to be twice as popular as Al Sheikh, Dahlan has consistently polled third among leading candidates. His ticket was projected to win seven percent of the vote in April 2021 until Abbas canceled the election.
Four contenders to succeed Abbas from within Fatah (top to bottom, left to right): Hussein Al-Sheikh, Mohammed Dahlan, Tawfik al Tirawi, Jibril Rajoub (Photos: Wikimedia commons, Twitter/X)
Another rival is Tawfik Al Tirawi, 74, another former PA intelligence chief. A member of Fatah's Central Committee, Al Tirawi has also fallen afoul of Abbas and lost most of his official positions. Despite being sidelined, Al Tirawi still commands a strong following among security personnel as well as within the West Bank's armed clans
Dahlan and Al Tirawi are believed to be allies. Should they form a united front against Al Sheikh, they could prevent him from taking over, by force if necessary.
A third contender is 70-year-old Jibril Rajoub, a former security chief and, like Al Tirawi, a member of Fatah's Central Committee. Rajoub still carries favour with Abbas and is therefore on better terms with Al Sheikh than either Dahlan or Al Tirawi.
Like Al Sheikh, Rajoub is unpopular with the public. He led the PA's fearsome Palestinian Preventive Security organization until 2002, when he was ousted for using force to crush political dissent and harass opponents. But unlike Al Sheikh, Rajoub commands the loyalty of a few thousand armed men who will make it harder for Al Sheikh to assume the PA's top job.
When Abbas dies, other armed Palestinian factions – such as Hamas, the Palestinian Islamic Jihad (PIJ), and the Popular Front for the Liberation of Palestine (PFLP) – could smell blood and try to wrestle territory from the hands of the warring PA strongmen. If Hamas, the PIJ, or both, manage to displace the PA, the West Bank could be turned into another Gaza Strip. But the West Bank has a higher elevation than Gaza, giving Hamas, the PIJ, and ultimately their sponsor, Tehran, a better view of Israel and its strategic and sensitive spots.
Some might imagine that Israel will watch with glee as Abbas's successors tear themselves apart. But a civil war carries huge risks for Israel and the region, and increases the chances of an Islamist takeover of the West Bank. If that were to happen, Israel might find itself back in pre-Oslo days, suspending Palestinian self-government until Palestinians can figure out how to produce an authority that can run their affairs without threatening Israel' security.
As Al Tirawi noted in 2022, infighting among Palestinians will complicate the transition to power after the current president is gone. "Abbas will be the last president of the PA," he said. That's the actual narrative that the West's Washington-centric storylines should be focused on.
Hussain Abdul-Hussain is a research fellow at the Foundation for Defence of Democracies (FDD), a Washington, DC-based, non-partisan research institute focusing on national security and foreign policy.
---
Palestinian Summer Camps for Terrorism and Martyrdom
by Nan Jacques Zilberdik
Algemeiner, August 7

Illustrative: Palestinian children compelled to participate in a Hamas military parade. Photo: Twitter.
The main theme of the Palestinian Authority (PA)'s summer camps this year was presenting terrorists and "martyrs" as role models for Palestinian children.
Summarizing the overall message of the camps, senior PA and Fatah official Jibril Rajoub, who is also the head of the Palestine Liberation Organization (PLO) Supreme Council for Youth and Sports that ran the camps, stressed that dead terrorists are "moons," "stars," and "the elite."
These terrorists are "heroes" who are "recorded in our hearts," he said, adding that it is crucial that they "remain in our memories" and that they are "honored." Rajoub stressed that the purpose of the camps are in line with the "Palestinian national ideology to ensure the awareness of these children who are the builders of the future."
In other words: The camps are a teaching tool for the PA through which the PA leaders make sure their ideology and values — that terrorists are heroes and role models — continue to live on in the next generation:
Fatah Central Committee Secretary Jibril Rajoub: "We established 648 [summer] camps in which 65,000 male and female [child] pioneers participated … These camps were established … on the principle of the Palestinian national ideology to ensure the awareness of these children who are the builders of the future … An additional [camp] topic connected to the shared slogan of these [Martyr] heroes, whose bodies are being held by these new Nazi fascists [i.e., Israelis] … We say to them [Israelis]: They [the Martyrs] are moons, they are stars, they are the elite, and they are the ones who sacrificed their lives. They were and will remain in our memories and in the memory of their children and their grandchildren… These [Martyrs] are recorded in our hearts." [emphasis added]

[Fatah Central Committee Secretary Jibril Rajoub, Facebook page, July 23, 2023]
Accordingly, the slogan the PA chose this year for all the summer camps was "Moons and Not Numbers," with the goal to teach 65.000 teens aged 13-17 to admire terrorists. Palestinian Media Watch (PMW) has exposed that the PA glorifies terrorist "martyrs" as "moons." "Not numbers" refers to Israel temporarily burying dead terrorists in numbered cemeteries until the bodies are transferred to the PA at a later date.
The following are examples of how the PA instilled in 65,000 teens this summer the belief that terrorists who attack Israelis — including those who succeed in murdering their victims — are heroes to be admired.
Kids in PA summer camps taught to identify with and see terrorists as "moons" 
Text on screen: "Who are you, pioneer?"

Girl: "My sister is Martyr Mai Afaneh [i.e., terrorist]."

Boy 1: "My friend is heroic Martyr Fayez Damdoum [i.e., terrorist]."

Boy 2: "I am the friend of Martyr Fayez Damdoum, who died as a Martyr on Oct. 1, 2022."

Boy 3: "Martyr Yamen Jaffal and Martyr Nassim Abu Roumi [i.e., terrorists] are my friends."

Text on screen: "And who are our Martyrs?"

The children repeat the same line one after the other:

Children: "Our Martyrs are moons and not numbers"

[PLO Supreme Council for Youth and Sports, Facebook page, July 17, 2023]
Sixteen PA summer camps were named after terrorists, teaching kids "their obligations towards the cause"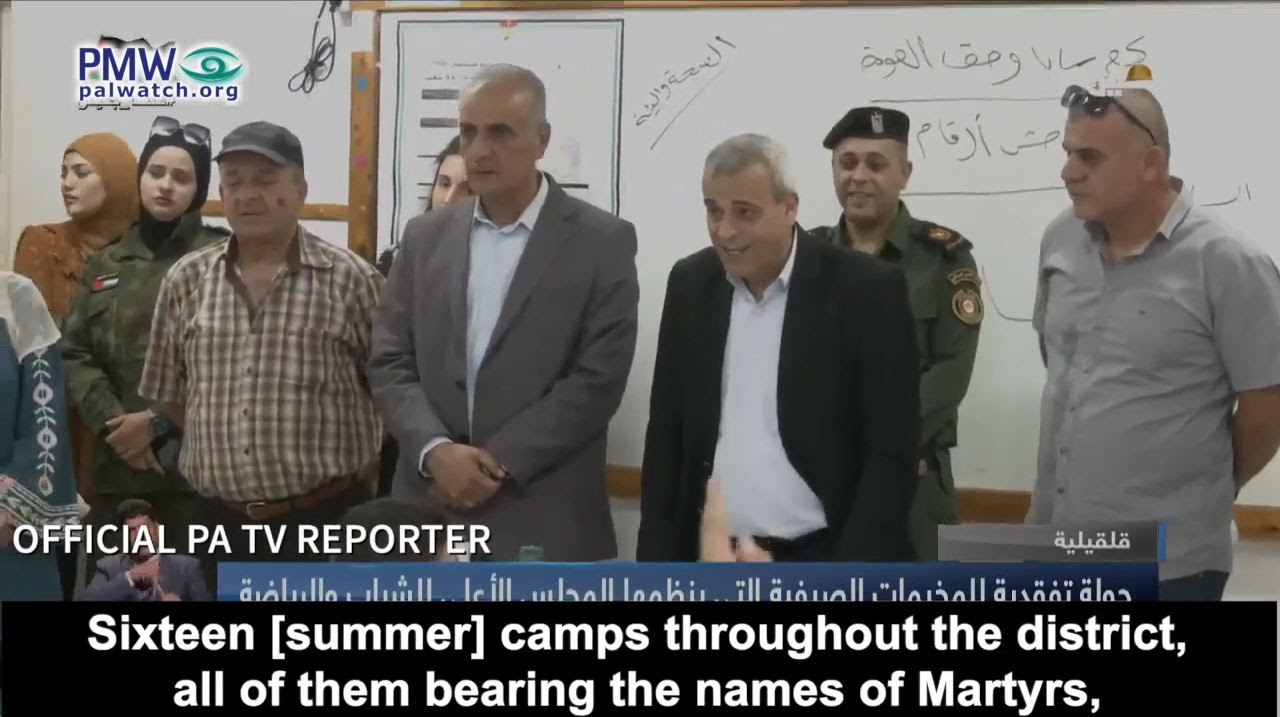 Qalqilya District Governor Rafe' Rawajbeh: "The [summer] camps are establishing a generation that is aware and young people who internalize their cause … what the Palestinian cause is … and what the obligations of this generation are towards this cause, towards the liberation, independence, and establishment of our independent Palestinian state."

Official PA TV reporter: "Sixteen [summer] camps throughout the district, all of them bearing the names of Martyrs, with a message expressing loyalty to this section [of society] that has sacrificed and watered the land of the homeland with its blood, for freedom and liberation from the occupation."

[Official PA TV News, July 16, 2023]
Children taught to envision themselves as "Martyrs" in PA summer camps
In the following video, children participating in PA summer camps in the Gaza Strip are taught to honor past terrorist "martyrs" and to envision themselves as "martyrs." In a procession, children held signs that read: "I am Martyr number," followed by a different number for each child. Moreover, the PA chose to name a sports event after a terrorist who was involved in the murder of seven Israelis: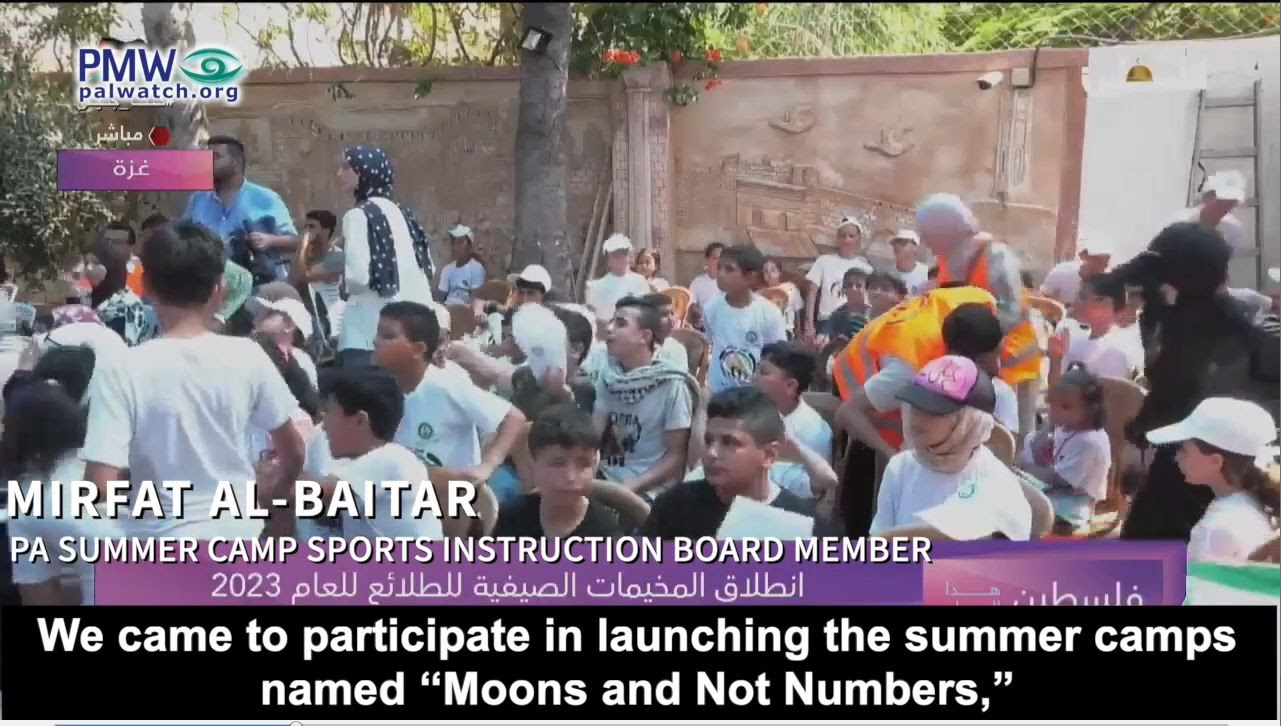 PA summer camp sports instruction board member Mirfat Al-Baitar: "We came to participate in launching the summer camps named 'Moons and Not Numbers,' which are dedicated to the Martyrs' bodies that are being held by the Israeli occupation. For the sports event we picked the name of Nasser Abu Hmeid [i.e., terrorist, responsible for murder of seven people], because he is the latest Martyr of medical neglect in the occupation's prisons, and his body is still being held by the occupation."

[Official PA TV, Palestine This Morning, July 15, 2023]
PA summer camp skit: "Israelis" attack Palestinian kneeling in prayer
This video shows children participating in a play during their summer camp. Some of the children play the role of Israeli soldiers with rifles who attack a Palestinian kneeling in prayer. This shows that Palestinian children continue to be taught that Israelis will attack them randomly and kill them in cold blood. Palestinian Media Watch (PMW) has exposed that this message is actively taught by the PA.
In addition, the video exposes that Palestinian children are taught that terrorist murderers are heroes and should be glorified and admired: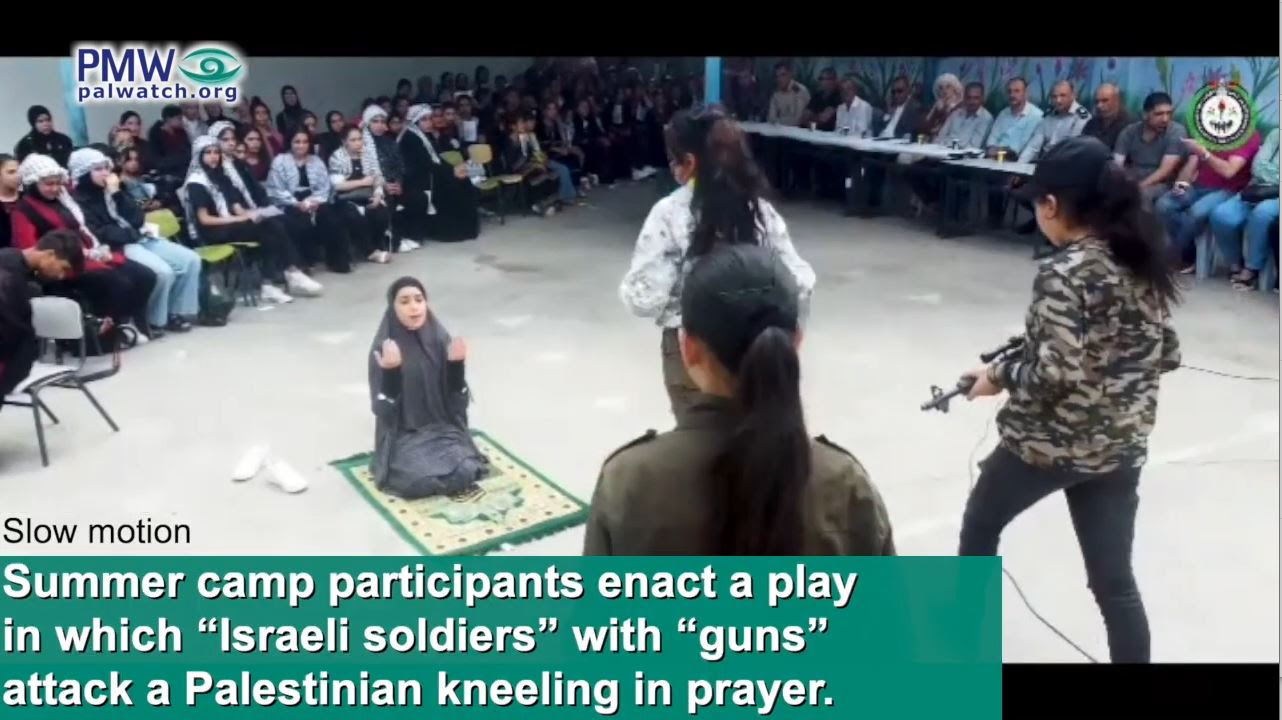 Girl 1: "In your opinion, what are we learning in our summer camps?" …

Girl 2: "In the national education corner, we get to know our land's prisoners, its history, and its holy sites. The most important thing is that you remember that our Martyrs are moons and not numbers."
Children hold signs with the names of terrorist "Martyrs" written on them, including two murderers.
Omar Abu Laila — one of the two terrorist murderers presented to kids as heroes in this camp — has been the focus of camps before. PMW exposed that Fatah named a military camp for high school boys after him. When 19-year-old Abu Laila stabbed two Israelis to death in 2019, the PA and Fatah turned him from an unknown teenager into a Palestinian symbol.
A play at another camp also included children holding toy guns:
Posted text: "The hours of joy and creativity continue and are crowned with the talents of our children at the [PLO Supreme Council for Youth and Sports] children's summer camp 'Moons and Not Numbers'"

[Khirbet Al-Adas Youth Center, Facebook page, July 20, 2023]
PMW has exposed similar activities in summer camps in the past, including children posing with automatic rifles to get their picture taken.
Mass murderer of children honored in summer camps
One of the most prominent Palestinian "heroes" of all times, Dalal Mughrabi — who led the most lethal terror attack in Israel's history in which she and other terrorists hijacked a bus and murdered 37 Israelis, 12 of them children– was also honored in the PA summer camps.
The photo below shows an art display at a summer camp featuring several pictures of terrorists. The picture to the left is of terrorist murderer Dalal Mughrabi. The others are of Uday Al-Tamimi, who murdered one, and of Wadi' Al-Houh, Abdallah Abu Al-Tin, and Ibrahim Al-Nabulsi, who all shot at Israeli soldiers. There are two signs on the left side, one of which reads "Jasmine neighborhood group," while the other reads "Martyr Uday Al-Tamimi group."
Posted text: "The joy does not decrease for even a moment from the faces of the pioneers of Bethlehem during the National Day activities

#Pioneers'_summer_camps_2023

#Moons_and_Not_Numbers"

[PLO Supreme Council for Youth and Sports, Facebook page, July 15, 2023]
The photo shows a group of children holding Palestinian flags. One child in the middle is holding a picture of terrorist Dalal Mughrabi.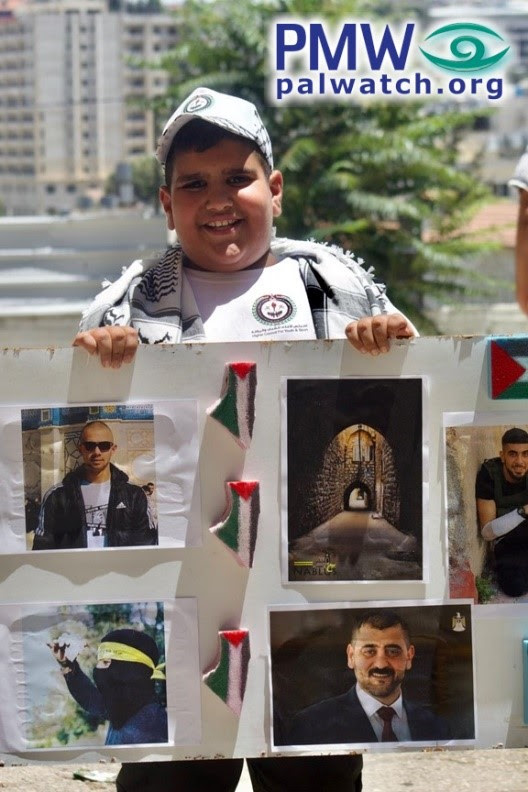 The photo shows a boy holding part of the art display in the first photo, in which the pictures of terrorists Uday Al-Tamimi, Abdallah Abu Al-Tin, and Ibrahim Al-Nabulsi are visible.
Terrorist murderer Mughrabi's status as a role model for Palestinian society in general and for kids in particular was stressed in several camps, as seen in the picture below in which a boy is holding a model of the Dome of the Rock.
On the wall behind him are several pictures, including pictures of terrorist murderer Dalal Mughrabi and terrorist Fatima Barnawi, who placed a bomb in a movie theater.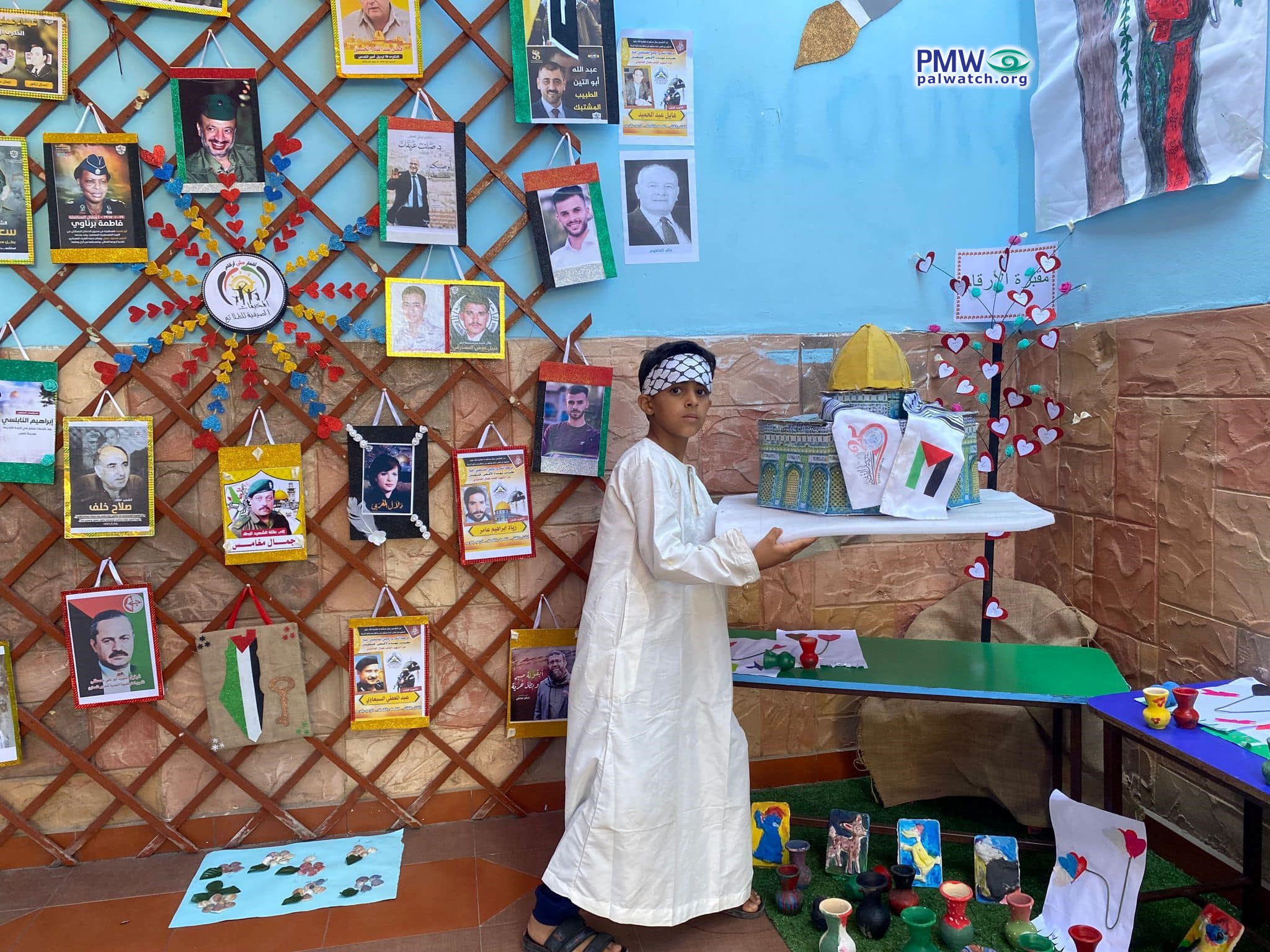 Posted text: "The flowers of the Gaza Strip glow in the [PLO Supreme Council for Youth and Sports] summer camp program"

[PLO Supreme Council for Youth and Sports, Facebook page, July 20, 2023]
Terrorist Ibrahim Al-Nabulsi was also the subject of another PA summer camp. The picture below shows children participating in one of the PA summer camps. On the whiteboard in the background is written "Ibrahim Al-Nabulsi."
Posted text: "The [PLO Supreme Council for Youth and Sports] summer camps' activities continue in the Nablus and Tubas districts"

[PLO Supreme Council for Youth and Sports, Facebook page, July 12, 2023]
Another murderer who Palestinian kids are taught to admire is suicide bomber Andalib Takatka, who murdered 6 and wounded more than 80 in her bombing of a bus in the heart of Jerusalem in 2002. Below, some very young kids are holding a framed photo of her:
Posted text: "Who is like the Martyr, for his virtues are lofty. This is his call to Heaven: Listen to it.

#Pictures … of the Martyrs' relatives from the Bethlehem district

#Moons_and_Not_Numbers"

[PLO Supreme Council for Youth and Sports, Facebook page, July 18, 2023]
Other family members of Takatka, who were also involved in the terror attack, were also honored at the summer camp.
A central part of the PA summer camps seems to have been to teach the participating children about individual terrorists. In this video two girls explain that they were taught "the names of Martyrs" — i.e., dead terrorists:
Children: "At the [summer] camp we learned names of Martyrs, including Muhammad Al-Azizi 'Abu Saleh'. Izz Al-Din Salahat died in 2022 as a Martyr."

[PLO Supreme Council for Youth and Sports, Facebook page, July 17, 2023]
At other camps, children were holding signs with names of terrorists as an act of identification with them. The picture below shows a child holding a sign bearing the text "Martyr Muhammad Al-Faqih," a terrorist who murdered one person, with an accomplice: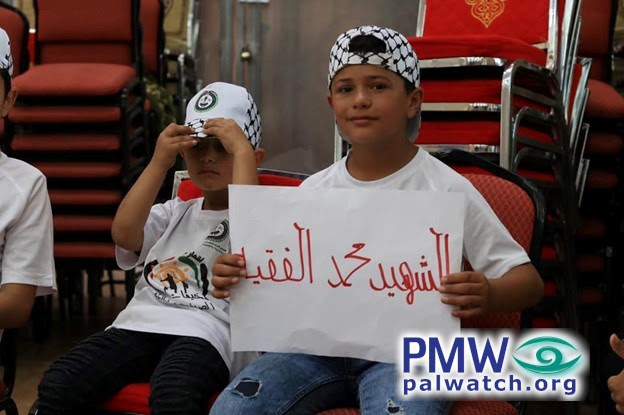 The following picture shows a child holding a sign bearing the text "Baha Al-Awawdeh," a terrorist who wounded an Israeli soldier in a car ramming attack: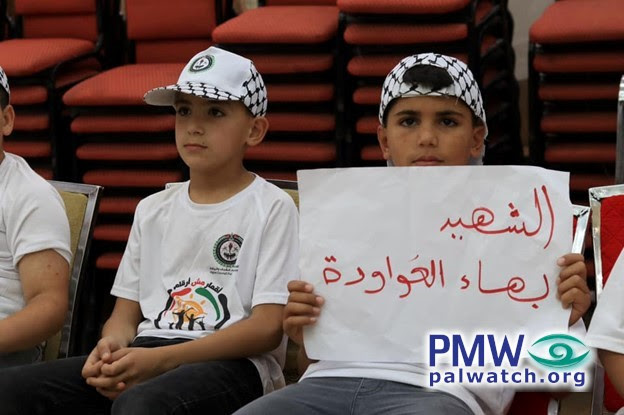 A teacher stands in front of a whiteboard in the picture below. Her head is partially blocking text on the board, which reads: "the L—- Den," with the dashes indicating the part of the text that is blocked. Evidently the text reads "the Lion's Den," an independent Palestinian terror cell, responsible for many attacks:
Posted text: "We don't know which picture to start the album of the pioneers of Hebron and Bethlehem with, because all the faces are amazing

#Moons_and_Not_Numbers

#2023_summer_camps"

[PLO Supreme Council for Youth and Sports, Facebook page, July 12, 2023]
Part of a creative event at one summer camp was to enter names of terrorists into a self-made table, including that of a murderer of seven: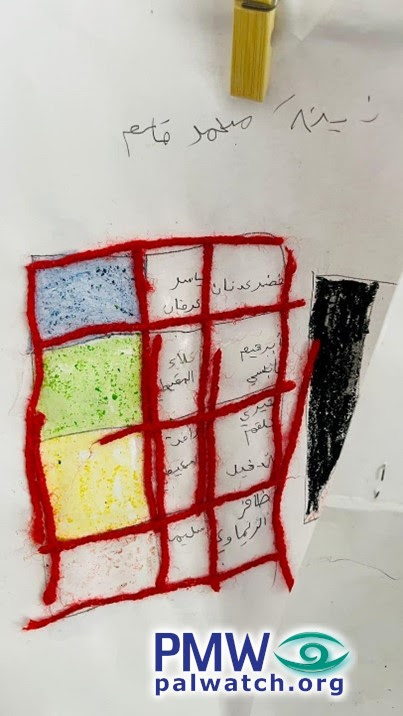 The picture shows a table made of red string attached to a piece of paper with names written in the boxes, including the names of Khader Adnan, an Islamic Jihad terrorist who killed himself in a hunger strike in prison; former PLO and PA Chairman Yasser Arafat; terrorist Ibrahim Al-Nabulsi, who shot at Israeli soldiers; terrorist Khairy Alqam, who murdered seven; and terrorist Zafer Al-Rimawi, who was killed while participating in violent confrontations with Israeli soldiers north of Ramallah on Nov. 29, 2022.
In other camps, children posed with posters featuring armed Islamic Jihad terrorists who were killed:
Or, as here below, posed with pictures of armed men:
The girl in the black shirt in the center is holding a picture of a man with an assault rifle, and her shirt features a picture of a man holding an assault rifle.
The author is a senior analyst at Palestinian Media Watch, where a version of this article first appeared