Qatar aid to Hamas/ PA losing West Bank control
Update from AIJAC
Update 08/16 #01
This Update discusses the recent provision by Qatar of US$31 million to pay the salaries of civil servants in Hamas-controlled Gaza – and what it reveals about the reality of the situation in Gaza. It also includes the key findings of a new study indicating the Palestinian Authority (PA) appears to be losing control over the key cities of the West Bank.
We lead with a discussion of the larger context and political complexities of the Qatari donation from the Washington Post. The paper notes that while Qatar is seeking to use the donation to expand its regional role and profile, the PA is unlikely to be happy, as the donation aids Hamas in upcoming municipal elections – and the PA lacks a similar patron to dispense largesse. It also looks at the interests of Israel – and the relationship between this payment and Israel's deal with Turkey to allow some aid to Gaza – and finally considers the interests of Egypt. For this examination of the political complexities in Gaza, using the donation as a starting point, CLICK HERE. An earlier Washington Post story discussed the rarely photographed or reported life of massage therapists, spin classes and private beach resorts enjoyed by Gaza's middle class.
Next The Tower magazine notes the Hamas response to the donation – which is to announce that contrary to Qatar's assurances, Hamas will seek to divert some of the money to its military wing, arguing there is no difference between civilian and military employees of Hamas. The article goes on to assemble the evidence that Hamas is frantically preparing for another round of conflict in Gaza, principally through massive tunnel building efforts – which comes at considerable cost to the welfare of Gaza's civilians. For this analysis in full, CLICK HERE
Finally, Pinhas Inbari, a veteran Israeli commentator on Palestinian affairs, has prepared a new report offering detailed evidence that the Palestinian Authority is losing control of the streets of the largest cities of the West Bank. The report is too long to include here in full, but below is his brief summary of his findings and their implications for the future and for peacemaking hopes. Links are included to the detailed sections of his study on the differing situations in Hebron, Ramallah and Nablus. For Inbari's worrying main findings, CLICK HERE
Readers may also be interested in…
Article 1
Why wealthy Qatar keeps the money flowing to Gaza
Washington Post, August 3 at 11:24 AM
It might seem like a simple matter of checkbook diplomacy: wealthy Qatar promising the struggling Gaza Strip that it would pay the monthly salaries of nearly 24,000 civil servants.
Nothing involving Gaza, however, is uncomplicated.
Qatar's pledge on Tuesday for a one-time payment of $31 million to cover the workers' checks — in addition to other public works across Gaza — is just a slice of efforts by the tiny Persian Gulf state to brand itself as the region's Mr. Fix-It by sponsoring development projects and trying to broker various peace pacts.
Gaza stands out, though. Any gesture of aid or outreach sets off strategic ripples in every direction across the region.
Front and center are the Palestinians themselves.
The divided Palestinians are moving toward municipal elections in October — the first in nearly a decade in which the Western-backed Palestinian Authority, which controls the West Bank, will run head-to-head against rival Hamas, which runs Gaza.
Another tranche of money and investment from energy-rich Qatar to Gaza is sure to sting Palestinian Authority President Mahmoud Abbas as his Fatah party frets over signs of rising support for Hamas. Abbas's West Bank government doesn't have a big-spender patron like Qatar. Hamas, too, has some swagger in the Muslim world for managing to limp along for years despite being cut off by an Israeli border blockade and being labeled a terrorist faction by the United States and others for attacks such as firing rockets into Israel.
The more Hamas boasts about the outside aid it receives, the more it could deepen the tensions with Abbas and his backers. Jamal Muhaisen, a member of the West Bank government's central committee, said last month that the planned Qatari payments "represents aid from Qatar to Hamas rather than to the Palestinian people."
Hamas, in turn, has raised preemptive alarms about feared crackdowns against its supporters in the West Bank before the election.
"It's all about who will get the credit for more Qatari help," said Patrick Clawson, director for research at the Washington Institute for Near East Policy. "One-month pay isn't going to change the lives of workers in Gaza. Many haven't been paid for years. But it's all about the symbolism and what side can at least deliver something."
Meanwhile, Israel has done some fancy footwork with regard to Gaza.
Israel would certainly applaud any attempts to keep Hamas from gaining strength. The two sides fought a three-week war in Gaza beginning in late 2008 and a seven-week war in 2014. Cross-border skirmishes persist.
Yet Israel also has cut some deals — including diplomatic fence-mending with Turkey — that offer potential long-term benefits for Gaza and, by extension, Hamas. The reason is Iran, which has been Hamas's main ally for decades. Israel figures that opening the door to aid from Turkey and elsewhere could undercut Iran's influence in Gaza and stave off deeper financial distress among Gazans.
Last month, Israel and Turkey reached an accord to repair ties after six years of strained relations over a deadly Israeli raid on a Turkish flotilla attempting to break the Gaza blockade in 2010. In a test run under the restored ties, a Turkish ship carrying more than 10,000 tons of humanitarian aid for Gaza docked in an Israeli port last month. From there, Israel ferried the supplies into Gaza.
Israel and Qatar's Arab partners in the Persian Gulf region, led by Saudi Arabia, also are increasingly on the same page — bonded by mutual dismay over last year's nuclear deal between Iran and world powers. In a sign of the strategic alignment, Israel has apparently raised no public objections to Qatar's plans to funnel millions of dollars more into Gaza.
And the confusing interplay of regional interests is not done yet. There's Egypt, too.
Among the things that keep Egypt's military-backed rulers up at night is the Muslim Brotherhood, which was deemed a terrorist organization and outlawed in 2013 but remains a powerful force as Egypt's main Islamist political faction. Hamas and the Brotherhood always had cozy ties. But that could be in flux.
Hamas has taken steps to soften its ties to the Brotherhood — probably with Qatar playing middleman. What Hamas wants in exchange is the reopening of Gaza's vital border crossing with Egypt, which has been open only sporadically in recent years.
"There's much more than money involved with Qatar's offer," Clawson said. "It draws in many of the region's disputes and rivalries under one roof."
So what does Qatar get?
Mostly what it always seeks: to play an ever-expanding role in the region and beyond. In Gaza, that means trying to muscle out Iran and Turkey as the main paymasters and policy-shapers.
On Tuesday, the head of Qatar's Gaza reconstruction committee, Mohamed al-Emadi, told reporters in Gaza that the monthly pay for 23,800 civil servants has been transferred and would be distributed with the help of the United Nations. The payments, he noted, will not go to Gaza's security forces.
Qatar also plans to bankroll several roadway and other projects in Gaza totaling about $40 million.
It is the latest in a money pipeline that began in 2012, when Qatar's then-ruler, Hamad Bin Khalifa al-Thani, became the first head of state to visit Gaza since Hamas took control five years earlier.
The emir received a hero's welcome as he crossed through Gaza's southern border with Egypt. A specially written song, "Thank you, Qatar," played on the radio and TV.
In 2014, Qatar made a similar one-time payment of civil servant salaries. Workers waited all night at post offices and banks to get the money. The Qatar song was dusted off and played again.
Article 2
Haniyeh: There's No Distinction Between Hamas' Military, Civilian Wings
by TheTower.org Staff
The Tower, 08.02.16
Hamas leader Ismail Haniyeh revealed that the terrorist organization makes no distinction between its civilian and military "wings," vowing in a statement on Hamas' website to take payments intended for government employees and funnel them to "military personnel."
Qatar recently agreed to transfer $31 million to Hamas in order to pay government workers, who over the past three years have only received around one-third to one-half of their official salaries. In response, Haniyeh stated that the payments will go to pay all of the terrorist organization's employees, including its fighters. He rejected those who say that there is a distinction between Hamas' military and civilian employees, saying that both are "legitimate" because both have been "appointed by the decision of a legitimate government."
The statement was first reported in English by The Times of Israel.

Hamas political leader Ismail Haniyah greets soldiers from Hamas' military wing, whom he promised this week to supply with Qatari money intended to pay for salaries of civilian government employees
While the United States and other countries have designated Hamas as a terrorist organization, the United Nations distinguishes between Hamas' political organization and its military wing, the Izz ad-Din al-Qassam Brigades.
Three years ago, the European Union designated only Hezbollah's military wing as a terrorist organization, despite the admission of a Hezbollah spokesman that the group has a unified leadership and no separate wings of the organization.
Despite the damage done to houses in Gaza during Operation Protective Edge two years ago, Hamas has been using its money and resources to prepare for the next war with Israel. Unnamed Israeli official last week estimated that Hamas was digging six miles of terror tunnels every month.
Since the end of the 2014 Gaza war, the Israeli Defense Forces discovered two Hamas tunnels that extended into Israeli territory—one in April and another in May. Israel destroyed 34 tunnels during the 50-day conflict and has since invested an estimated one billion shekels ($250 million) in tunnel detection technology. A Hamas operative who was captured in June after illegally crossing into Israel revealed that the terrorist group's fighters can travel underground throughout the entirety of Gaza.
Brig. Gen. (res.) Yossi Kuperwasser, the former director general of Israel's Ministry of Strategic Affairs, told reporters in May that the discovery of the tunnels was a sign that Hamas was preparing for another war against Israel. He added that the tunnel digging means that "they definitely invest a lot in making the necessary preparations so that in the next round, when they decide to start it, they will be able to inflict the heaviest damage on Israel, including through those tunnels."
Haaretz defense correspondent Amos Harel wrote in January that "Hamas is investing great efforts and huge sums in the tunnel project. It is reasonable to assume that the number of tunnels crossing under the border is close to that on the eve of Protective Edge," or the 2014 Gaza war.
In Your Complete Guide to Hamas' Network of Terror Tunnels, which was published in the April 2016 issue of The Tower Magazine, Dan Feferman underscored that it is the people of Gaza who are paying the price for Hamas' decision to prioritize war with Israel over their wellbeing.
There is a tragic side to Hamas' tunnel strategy. Roughly 9,000 homes were destroyed during Protective Edge, and very few have been rebuilt. This is not Israel's fault, as building supplies flow regularly into Gaza. But according to declassified intelligence reports, these supplies are routinely stolen by Hamas in order to serve the group's terrorist purposes. Hamas smuggles in cement, diverts from construction and humanitarian donations, and even raids civilian construction sites in order to rebuild its tunnels. Estimates are that one tunnel can cost a million dollars to build and uses around 50,000 tons of concrete. Close to a million tons of concrete were poured into the terror tunnels before 2014.

The tunnels, in this sense, are a zero-sum game. If the same materials were put into reconstruction, the Gazan people would be better off and, lacking this crucial asymmetric warfare capability, Hamas would be less tempted to attack Israel. On the other hand, with the same limited materials going to terror tunnels, the people of Gaza continue to live in ruins while Hamas rebuilds its war machine.

While Hamas appears to be deterred in the short term, it continues to believe that the tunnels are its only strategic weapon. While it may not be interested in another war, the tunnels continue to be dug for a reason. Once used, however, they lose their effectiveness, as the IDF knows their locations and can thus destroy them. Hamas is well aware of this dilemma. The tunnels essentially leave Israel and Hamas in an arms race—with Israel racing to develop a technological solution before Hamas decides to launch another round of fighting.
Article 3
The Fraying Palestinian Political Entity in the West Bank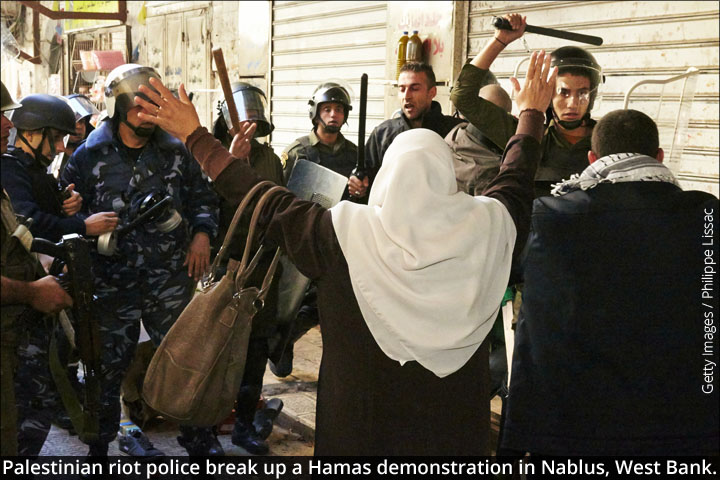 Introduction
The Fragmented West Bank: The Whole Is Less than the Sum of Its Parts
The Palestinian Authority is failing to control extensive parts of the West Bank. As a result, some districts of the West Bank are developing in different directions, thereby accelerating the process of the PA's disintegration.
In Hebron, for instance, the large clans of Mount Hebron have linked up with each other, reestablished the Tribal Council of Mount Hebron, and sent a delegation to Amman to express loyalty to the king of Jordan under the Jordanian flag. (For more details on the situation in Hebron, see here.)


Heads of Hebron University and University of Jordan sign agreement in Amman
In Ramallah, the PA's de facto seat of government, Europe seeks to organize a phalanx of non-governmental organizations (NGOs) as a political force. This effort is opposed by the PA, which wants the NGOs to be under its own rule. It was because of this pressure that former PA Prime Minister Salam Fayyad resigned from the leadership of the key NGO Palestine of the Future. (For more details on the situation in Ramallah, see here.)
Nablus, for its part, has gone into a tailspin of total anarchy. It is under the rule of gangs, with exchanges of gunfire in the heart of the city and attempts at political assassinations. (For more details on the situation in Nablus, see here.)

A gas delivery truck near Ramallah with "don't shoot" sign.  How far have things deteriorated? (Pinhas Inbari)
Ramallah's loss of control over the West Bank districts raises questions about its ability to run a state and play its part in ensuring not only Israel's and Jordan's security, as required by various agreements and the rules of conduct between neighboring states, but even its own security.
The tearing of the Palestinian political and social fabric will only increase as Palestinian Authority President Muhammed Abbas nears the end of his tenure.
The fragmented Palestinian West Bank will be a weaker entity than the weak states that collapsed in the Arab Spring. When the Palestinian entity collapses, the vacuum will be filled by the negative forces that have become the nightmare of the world.