Israel-Hamas hostilities prompt surge of antisemitic incidents
Jul 16, 2014 | Robert Ellenhorn
As has been the case in the past – amid hostilities between Israel and her enemies, attacks on Jews around the world have proliferated. Both physical attacks and blatantly antisemitic rhetoric at rallies and on social media have been evident – despite the routine claims by Israel's critics that they are targeting Israel and its policies, not Jews.
Perhaps the most serious incident occurred in Paris – where the situation has become increasingly intolerable for French Jews. An anti-Israel protest near Bastille Square turned violent and saw hundreds of Jews trapped in a nearby synagogue as protesters attempted to storm the building. Bricks and stones were thrown at the place of worship as police fended off the attackers. Eventually police units were able to safely escort those trapped in the synagogue to safety. Reports also indicate that a second synagogue was attacked. This comes just months after right-wingers marched thorough the streets of Paris chanting, "Jews out, France is not for you!"  Meanwhile, a demonstration in Antwerp was rife with calls to "slaughter the Jews".
In Melbourne last Thursday night, former IDF soldier Zachary Gomo was assaulted on Parnell St in Elsternwick while wearing a t-shirt with Hebrew writing. Two men approached the 28-year-old and began to punch him, shouting insults in Arabic – calling him a "Jewish dog", as well as saying something about Gaza. Mr Gomo was able to fend off his attackers and reach safety but not without sustaining bruising and cuts, possibly from a screwdriver.
Likewise, in Morocco, a local Muslim man beat a rabbi on his way to Friday night services. Rabbi Moshe Ohayon suffered a broken nose and ribs in the attack. Ohayon supposedly asked passers-by for help but was ignored. The suspect reportedly told the rabbi that the attack was in retribution for Israeli airstrikes in Gaza.
Meanwhile, in the days since "Operation Protective Edge" began, many have taken to social media to express their opinions. While most asserted their views without resorting to racism, many self-described "pro-peace" activists have chosen to use events in Gaza to display their vitriolic antisemitism quite openly.
Many have made the offensive comparison between Israel and the Nazis, while others have praised the Nazis for their hate of Jews. The hash tags "#HitlerWasRight" and "#HitlerDidNothingWrong" have been widely used on Twitter and accompanied by graphics glorifying the genocidal leader. In Malaysia, a popular religious scholar wrote that Hitler "may have been right" in exterminating the Jews.
In Australia, of particular concern were shocking comments made on a Facebook event page for the pro-Palestinian rally held in Sydney on Sunday. Such comments directed towards Jews included:
"Your wife must be blind mate you've got a head like a smashed pumpkin you filthy Jewish dog… Go have a shower everyone knows u pigs only wash once a month" and " . . . Do us all a favor and go wobble back and forth reciting Satan's manual and sticking your cocks in the wailing wall" among many others.
Unfortunately, the hate has also made its way offline and on to the streets of Melbourne and Sydney.
In Sydney last weekend, a pro-Palestinian protest occurred with much overt antisemitism on display. Amongst the crowd were many hoisting the flag of Hezbollah – an organisation that has been responsible for the murder of Jews worldwide and whose leader has called Jews "the grandsons of apes and pigs".
Also present were numerous signs comparing Israel with the Nazis. Many presented mock Israeli flags with swastikas in place of the Star of David. Another sign made the egregious claim that "Gaza is the Warsaw Ghetto".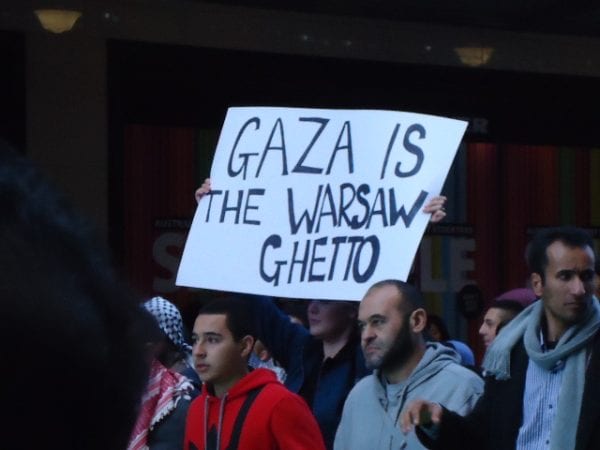 Such comparisons are not only inaccurate, but also highly offensive and serve to desecrate the memory of millions whose lives' were lost at the hand of Nazi genocide.
British commentator Howard Jacobson stated in 2009- in reference to such comparisons- words that ring just as true today:
"Don't mistake me: every Palestinian killed in Gaza is a Palestinian too many, but there is not the remotest similarity, either in intention or in deed – even in the most grossly mis-reported deed – between Gaza and Warsaw.
Given the number of besieged and battered cities there have been in however many thousands of years of pitiless warfare there is only one explanation for this invocation of Warsaw before any of those – it is to wound Jews in their recent and most anguished history and to punish them with their own grief. Its aim is a sort of retrospective retribution, cancelling out all debts of guilt and sorrow. It is as though, by a reversal of the usual laws of cause and effect, Jewish actions of today prove that Jews had it coming to them yesterday."
Meanwhile, others held signs disparaging Jews and Judaism. One sign read "Khazar Jews out of Palestine"- propagating an oft-spoke myth invoked to deny Jewish historical connection to the land of Israel. Another sign read "God Chosen Who?" invoking a common antisemitic theme that the Jews see themselves as the "Chosen people", better than everyone else and entitled to abuse others.
Additionally, according to Julie Nathan who is the research officer for the Executive Council of Australian Jewry, an MC at the rally reportedly accused "the Jews" of "burning people" – an apparent attempt to lay collective guilt on all Jews for the horrific murder of Muhammad Abu Khdeir. With unconscious irony, she then claimed the rally was not "against Jews or Judaism but against the Jewish state."
Similar pro-Palestinian protests to the one in Sydney have taken place in many cities and also been the site of explicit and disturbing antisemitism.
At a rally in Seattle, a sign depicting a caricaturised Jew eating a child with a cup of blood on the side was on display. While one would hope that "the blood libel" would have no place in this day and age – evidently this is not the case. The false accusation that Jews kill gentiles and use their blood in Jewish rituals has been used for centuries to encourage pogroms and other violence against Jews. Unfortunately this incitement continues to be propagated nowadays – most recently coming from the Palestinian Authority's (PA) official newspaper Al-Hayat Al-Jadida.
There, Yahya Rabah, columnist for the official PA daily and member of the Fatah Leadership Committee in Gaza, wrote:
"We have nothing with which to speak to these Israeli murderers, who go too far with their crimes, and whose God, 'Yahweh', is called the Lord of Hosts and demands, according to the Protocols of the Elders of Zion, that they offer him sacrifices during Passover in the form of Matzah made from the blood of our children. "
It is time the world recognises that traditional antisemitic beliefs are reasonably common among many self-described "anti-Zionists" and their claims about being merely critics of Israel's policies or existence amounts to a facade for racism.
Most importantly it is time for protesters and activists who genuinely do wish to engage in peaceful and respectful protest to vanquish hateful voices from amongst their ranks. Protest and debate – even heated debate – are a key part of any democratic society, but there should be no place for the hate-filled antisemitism that often permeates these protests and debates.
Unfortunately, these incidents come as no surprise. With antisemitism on the rise throughout the world, such instances seem to be more common – whether it is in Kansas City, Brussels, Paris, or Melbourne.
Moreover, the perpetuation and proliferation of such open hatred towards Jews only reinforces the necessity of a secure homeland for the Jewish people.
Robert Ellenhorn